Business
#grpartners: The biggest online fitness club in Slovakia after 7 years with a new design and website!
Exercise at home has been available to everyone for 7 years thanks to the Fitshaker online gym. From now on, it will also be an experience thanks to the new website, UX and fine-tuned design.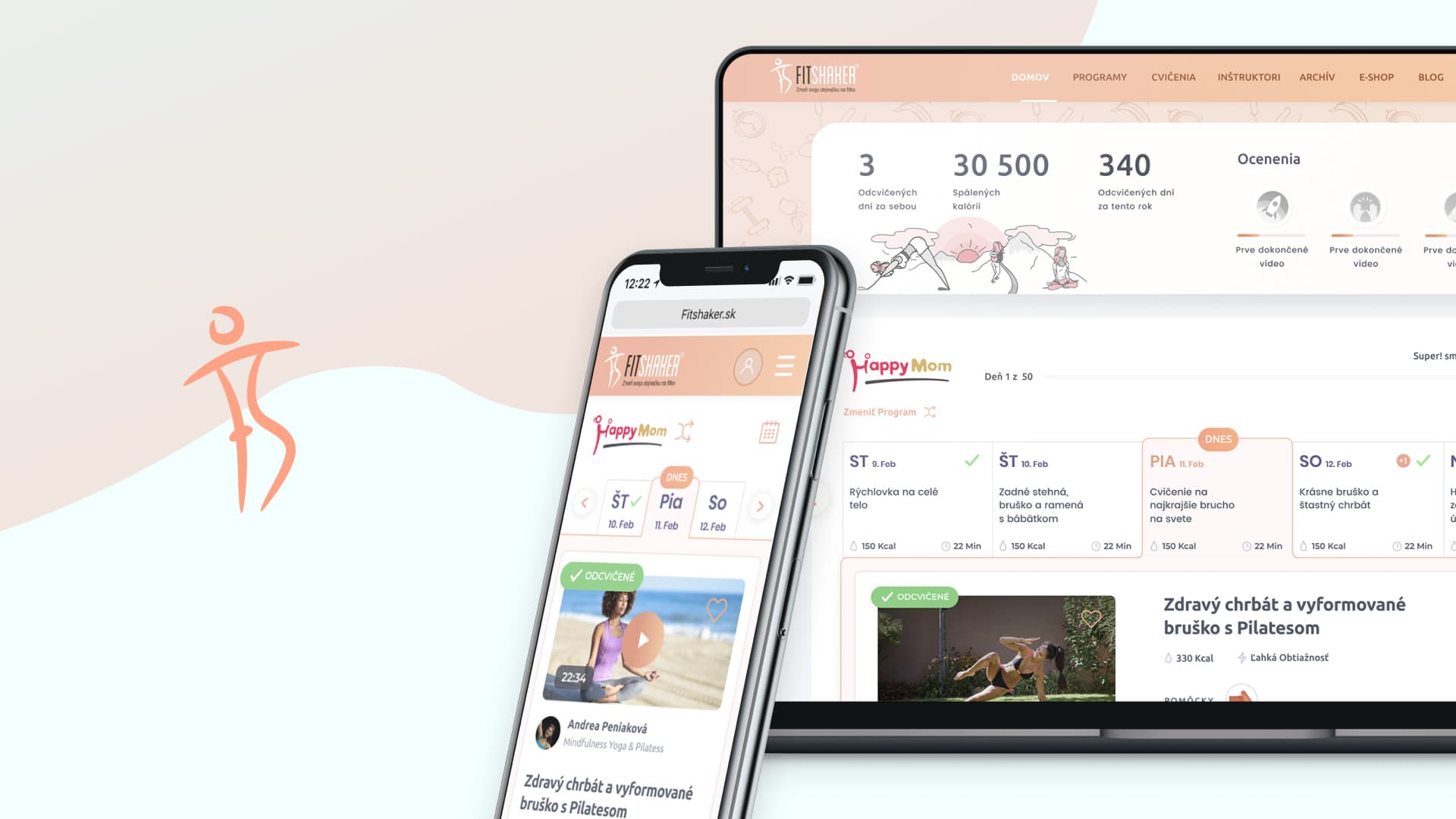 Online trainings with professional trainers from the comfort of your home
Fitshaker brings hundreds of trainings in dozens of exercise programs to the online environment, thanks to which tens of thousands (not only) of women can exercise regularly from the comfort of their home. Fitshaker's goal is "That every woman in Slovakia and the Czech Republic exercises regularly and eats healthy." From April 2021, a new website on which we have worked together for several months will also contribute to the fulfillment of this goal.
‍
Maximum focus on the users
The new Fitshaker website aims to maximize the user experience for thousands of active members. The project was led by the SCRUM method, which allowed us to implement new functions even during the ongoing development of the site. We also achieved a great result thanks to the analysis of the original website, constant testing of UX design and new functionalities through prototypes on active members of the Fitshaker community, whose feedback was crucial.
‍
What does the new WEB & UX Design brings
‍
The new website brings a modern, clear and intuitive design of the user environment, which is dominated by the upper navigation bar. It is the panel in combination with the search window and filters that provides users with a fast and efficient search on subpages.
For registered and Premium members, the website offers a full range of news. One of the most sought after is an extensive filter that offers a selection of exercises based on various parameters.
‍
A calendar with the possibility of weekly and monthly display of the training plan has also been added. In addition to the calendar, progress is also recorded in statistics and gamification elements - diplomas and awards. One of the main features that will delight Fitshaker members is the ability to change the program to practice different types of programs from tabata to pilates.
In addition, access to the Fitshaker ecosystem is now even easier, thanks to a high degree of connectivity and easy sing in in just few clicks through Facebbok or Google services.
‍
Platform description
Development of information system in brief:
UX / UI design - Figma
Backend - Node.js
Frontend - React
DBMS - MS-SQL
WAS - Docker
Kto nás včera sledoval, vie, že to bola teda poriadna jazda. Po dlhých mesiacoch príprav sa v nedeľu 8 programátorov...

Uverejnil používateľ Fitshaker Utorok 13. apríla 2021
Check out the FitShaker website: