Insight
HACKATHON 2020 (how to organize internal hackathon)
We no longer imagine hackathons as events organized by large companies, where the main attraction is the price for the first three placed teams. Their potential is much greater. We fell for it as a regular team activity, which opens the new year in GR.

GoodRequest Family
28 Jul 2020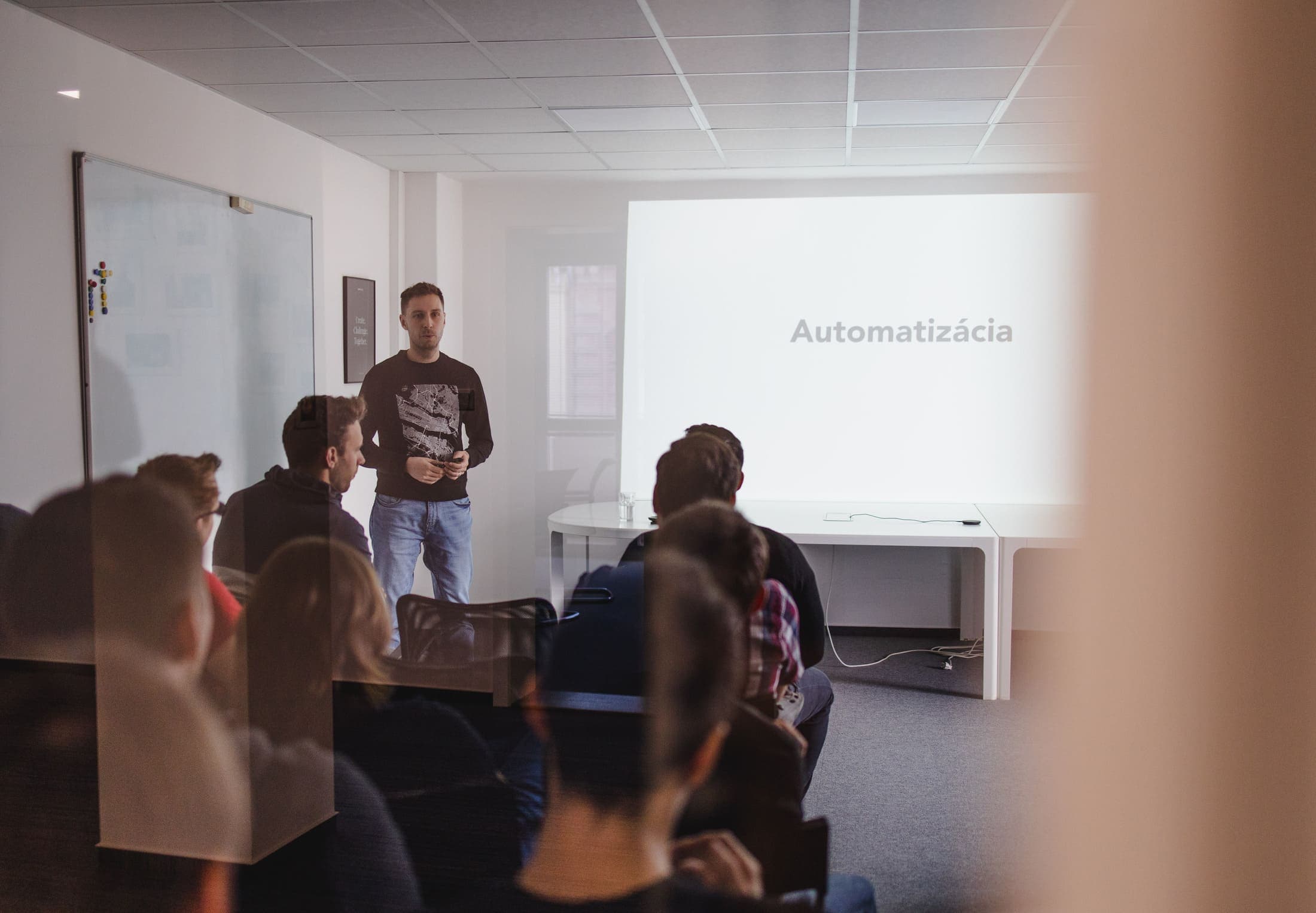 What is a hackathon?
At the beginning, let's take a brief look at what a hackathon is all about. It is typically a "tech" activity where programmers, designers, projectors, graphic artists and the others meet in order to create a specific solution. It can be the creation of a web or mobile application, campaign, solution that improves internal processes, etc.
We see Hackathon as a great opportunity to give free play to creativity. Opportunity to try something outside the standard scope of work and test the discovered news that entice us to try and implement for us. It also opens up opportunities to create in a different team and with different people than we normally work with.

We want to share with you the story of this year's Hackathon on the topic of AUTOMATION. Maybe you´ll find inspiration :-)
2 weeks of preparation and organizing & 2 days of fun and hard work
Preparations precede two-day Hackathon. At the very beginning, there is the topic. It should reflect the current needs of the company and its employees.
Simply - choose it the way that we can solve what is needed and at the same time it provides enough opportunities for everyone, regardless of platform, position or experience.
We have chosen automation. It offers "projects" for everyone, from programmers to testers to management.
Our welll-coordinated team has already had a few Hackathons. This year has already been the fifth one. At the first meeting, we create a checklist with the tasks that are on the program for the next 2 weeks. Of course not full time. :-)
Our checklist included :
✅ Topics and teams
✅ Budget
✅ Program of both days
✅ Evaluation and awards ( which categories we will award and how many teams )
✅ Internal marketing ( countdown, merch, communication of topics…)
✅ Organization during Hackathon ( snacks, support )
Cards are dealt, projects are selected, let's go!
Team formation is always spontaneous. The only condition is that no one works alone. So everyone can come up with a project related to the hackathon topic and create a team with at least two members. Anyone who does not have a specific idea or likes a project created by another team can join them. This year, teams have selected projects that improve, simplify or innovate some part of their work or processes. A total of 15 teams have been created.


Here you can see examples of specific projects. After each name, the number of team members is given in parentheses. We also add one or two sentences of description.
1. Scripty & Stringy (3) - Find / create a tool that generates strings and maintains localization. It should improve management and generate localization files.
2. SnackBar 2.0 (6) - Improve the current application that we use in SnackBar when buying goodies with a new design, mobile version, admin interface, statistics, etc.
3. Kubernetes (2) - What benefits does Kubernetes have for us? Analyze what is better, prepare a comparison and evaluation of how difficult it would be to migrate our existing projects.
4. Zber metriky (2) - Select and implement a monitoring tool for applications, containers, databases, virtual utilization, etc.
5. Utibilita (6) - The management-project team tried to create a table that would automate the calculation of profitability and payroll documents. It was successful and, moreover, according to the authors, it is: "COOL!" : D And we have already implemented.
6. Creative Hiring 2.0 (6) - Design a creative hiring concept that attracts and at the same time verifies the logical thinking, expertise and team match of the candidate in an interesting way.
7. Design Framework (2) - The designers decided to unify the process and create a framework with methods and templates for each step. The goal was for each project to have the same process, steps followed, outputs in one place.
How are ideas made? Take a look at our cuisine.
How did the hackathon itself go? We tried to report the atmosphere in the way that we did not describe this part of the article by the words, but tried to transfer the atmosphere to you through the lens. :)
Glory to the winners, honor the presenters
The awards were given in three categories. We wanted to differentiate them, as the nature of the projects and the structure of the teams differed. That was in the focus, the rate of progress and the benefit with regard to time.
This year we left the evaluation to the most professional. To us. :) As the projects concerned automation at us, we chose this model in GR. A year ago, when we were working on new business ideas at Hackathon, we invited a jury from other IT companies - to evaluate as objectively as possible. This year, an "internal jury" was on option.
In Slack, it was possible to vote for one of 13 projects in three categories by responding to the post.
1. The best progress
2. The best presentation
3. The best idea
Each team presented the results of their two-day effort during five minutes of fame. Then he could show others where they had moved, what they had created and what their project would bring. An attractive and imaginative form was a big plus. :)

How did it end?
In less than two days, the "biggest piece of hard work" was managed by the team that collected the metrics. During the presentation, they demonstrated a tool that was deployed and worked on a real project. :) The award for the best progress therefore went to the two-member team from Backend team.
With the award for the best presentation, there was the closest battle between the teams : D Watching presentation skills was amazing! If you ever hear that programmers are great at technical point but don't know how to sell it, please don't believe it! Creativity, imaginativeness, expression… It was really worth it. There could only be one winner, making the couple from the Backend and Android team.
The best idea came from a six-member team that was probably the most diverse. We would like to share the Creative Hiring 2.0 project immediately, but since we have also been implementing it and currently catching up with the details, we can only reveal that it will be great. The idea originated in a team represented by HR, marketing, Android, Design and iOS members. They did the work which they deserved the award for. :) We will reveal more soon. Stay tuned.

MERCHanger !
During recent events in GR, we have tried to create something that we will remember. Something imaginative and useful in one. What do you say? Did we manage to achieve? :-)

Our CEO Tomáš talked in Podcast about Hackathon and many other "bites" and serious things as well. Peťo Chodelka asked about everything from the establishment of the company, to projects, our approach to clients or the way we have built the culture we have in GoodRequest. You must definetely listen to him. :)

GoodRequest Family
28 Jul 2020