Modernization and streamlining of beauty salons with Notino Partner
Design and development of a new B2B channel for small and medium beauty service providers.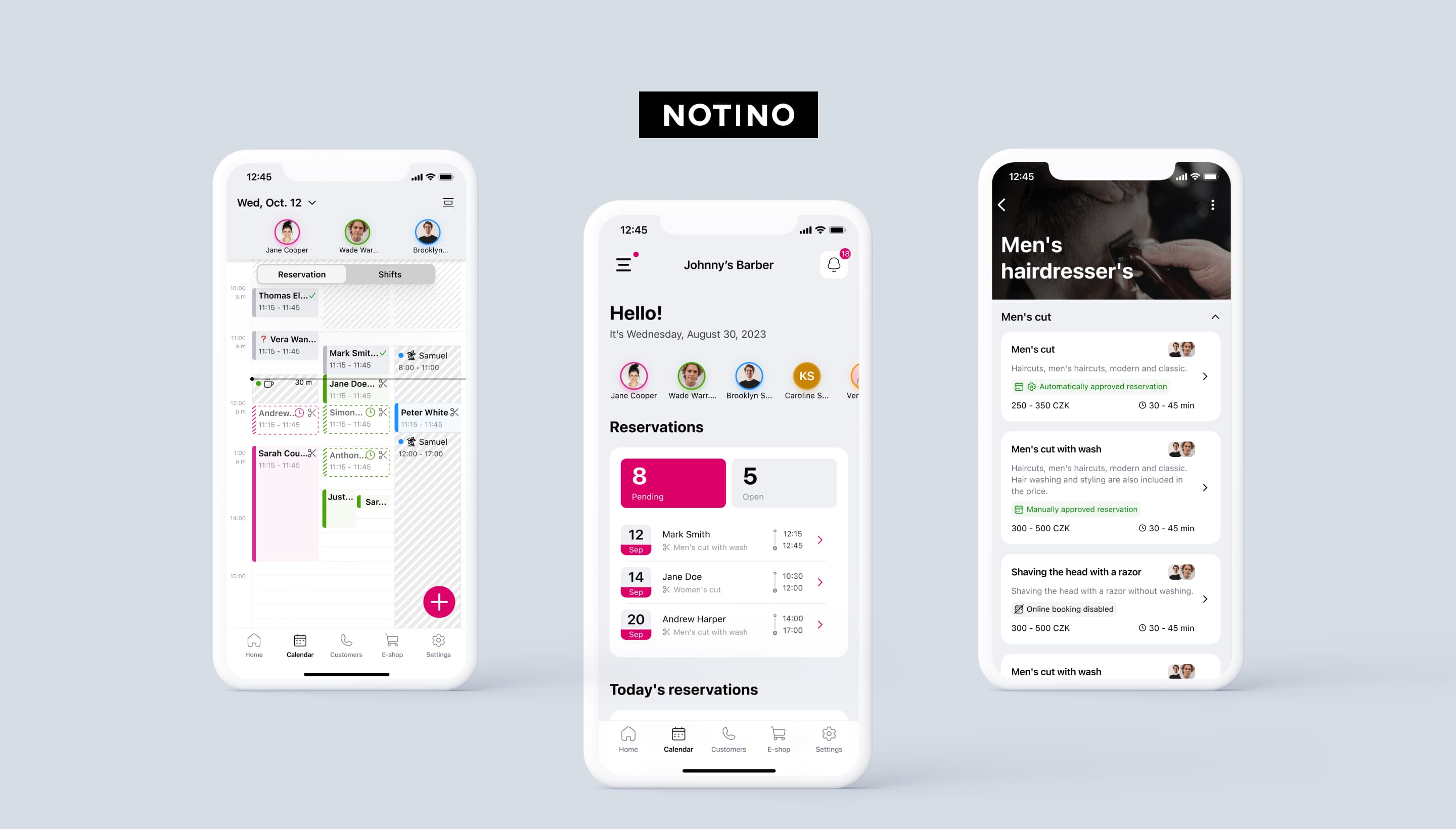 Informations
Client:

Notino

Project Type:

iOS & Android, web admin, landing page, web catalog

Services:

Design, development, testing, project management, support

Year:

2021 - present
You will learn
How we decided to minimise the risk of errors,
that the calendar is not as simple as it may seem,
how we managed to combine two worlds into one app,
what was the best strategic decision of the project.
Client
Notino, a company with 19 years of experience in the market, is the largest online store for perfumes and cosmetics in Europe, operating in 27 countries and has more than 24 million satisfied customers. Notino provides more than 100,000 unique products from 2,500 global and smaller local brands and shipped more than 100 million packages across Europe last year. In the Czech Republic and Slovakia, Notino won the ShopRoku award as the best quality e-shop across sectors. Notino decided to expand its product offering by including the largest aggregator of beauty services under one roof, which we finally did together.
Challenge
The biggest challenge of this project was the combination of an ambitious deadline and a complex project scope. The project was extremely challenging to coordinate, as GoodRequest was responsible for delivering design, backend, frontend, mobile development, testing, and support. At the peak of the project, our team consisted of up to 30 individuals.
Another challenge was ensuring a smooth transition of the system for both partners and customers, while building our solution to remain technologically independent and minimize the risk of errors.
GoodRequest as a Strategic Partner
In the beginning, we put our heads together and placed a strong emphasis on a user-focused product approach and design. Since the scope of the project was gigantic, we proposed to split it into three smaller releases to minimise the risk of errors.
This approach demonstrated to the client that we have not only high-quality services and technologies but, more importantly, that we think within the context of an overall product strategy. Notino chose a strategic partner, not just a specific solution, and that's our strength at GoodRequest.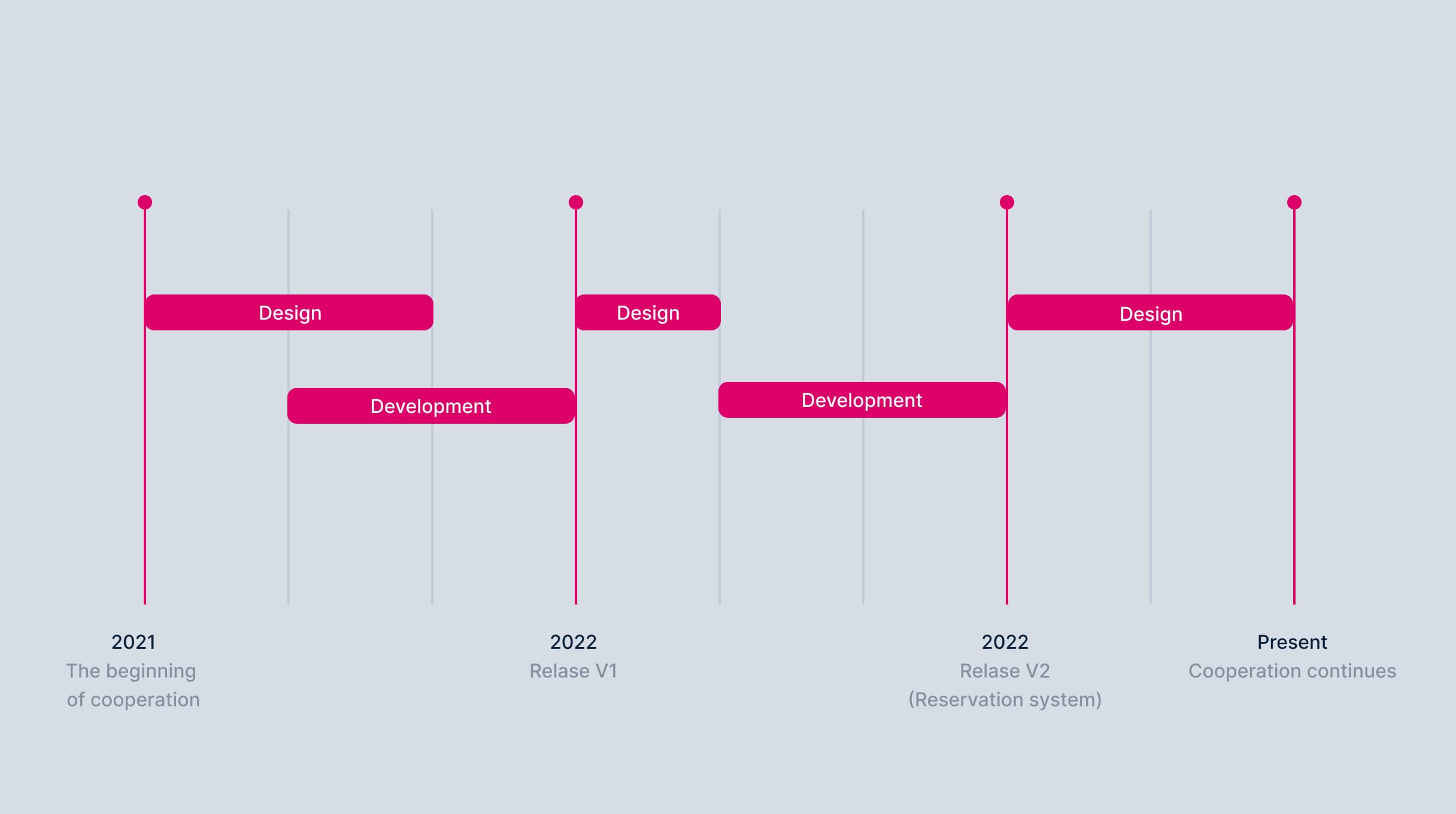 Problems require the right solutions
To kickstart the project on the right foot, we had to ensure a complete understanding of the client's requirements and expectations. This involved a whirlwind of endless meetings, defining specifications, handling a multitude of data, and functionalities that needed to be addressed on various levels.
One of the biggest hurdles we faced was an extended product embargo. After its "unveiling," new stakeholders began to engage in the project. This resulted in the introduction of new ideas and, thus, changes in UX and implementation, to which we had to promptly respond.
We often encountered changes or expansions in the product specifications, leading to many revisions of existing functionalities, which increased the workload across platforms.
B2B application - What can be challenging for a calendar?
The new B2B app Notino Partner is designed for small and medium beauty service providers - for cosmetic salons, hair salons, barber shops, massages and physiotherapy, manicure and pedicure, aesthetic procedures, and even dog salons.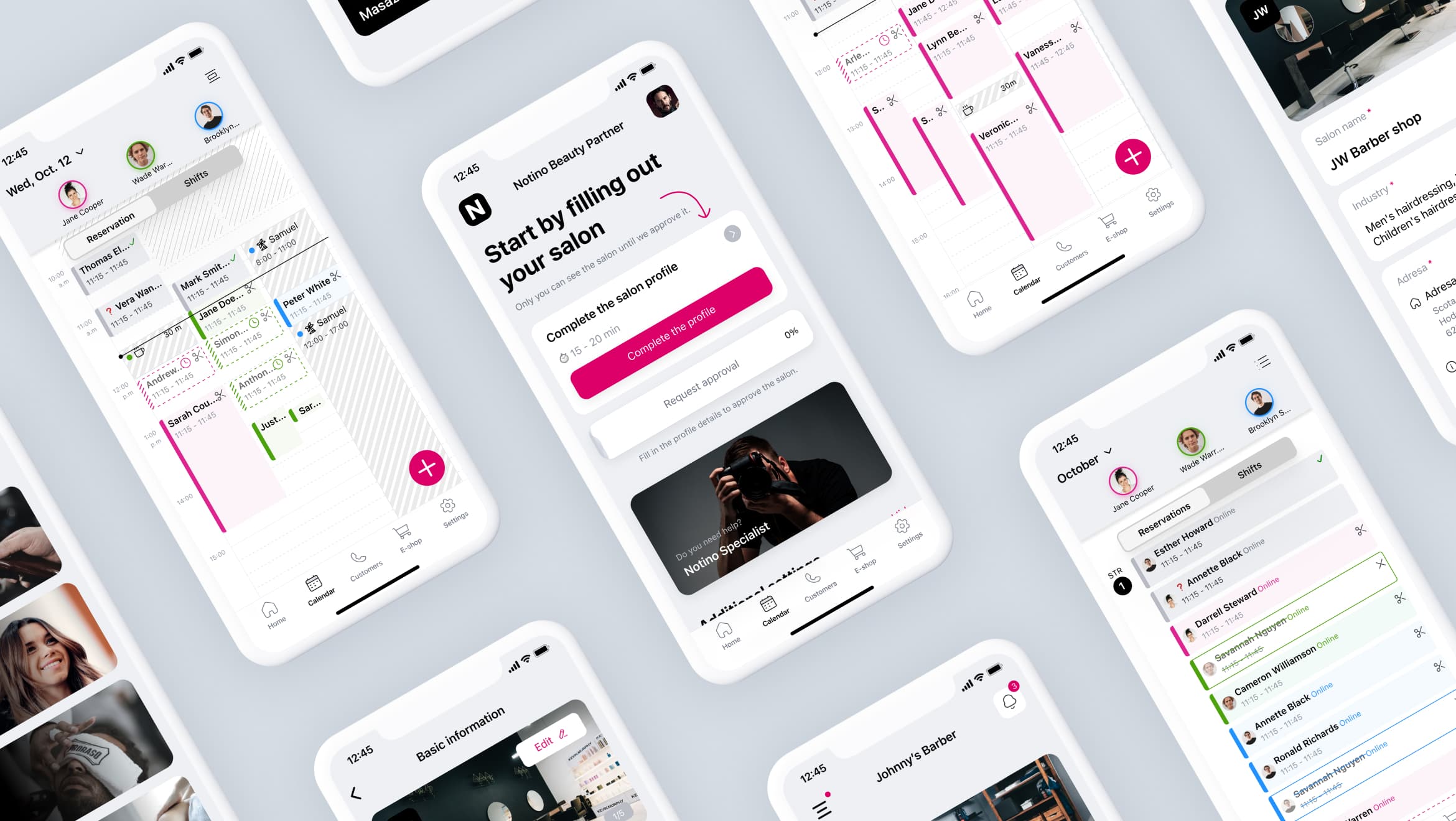 In the first milestone, we redesigned and developed an interface where salons can register, create their professional profiles, and offer their services to customers. The application allows for the management of employees, customers, and service portfolios while providing detailed statistics on how their business operates.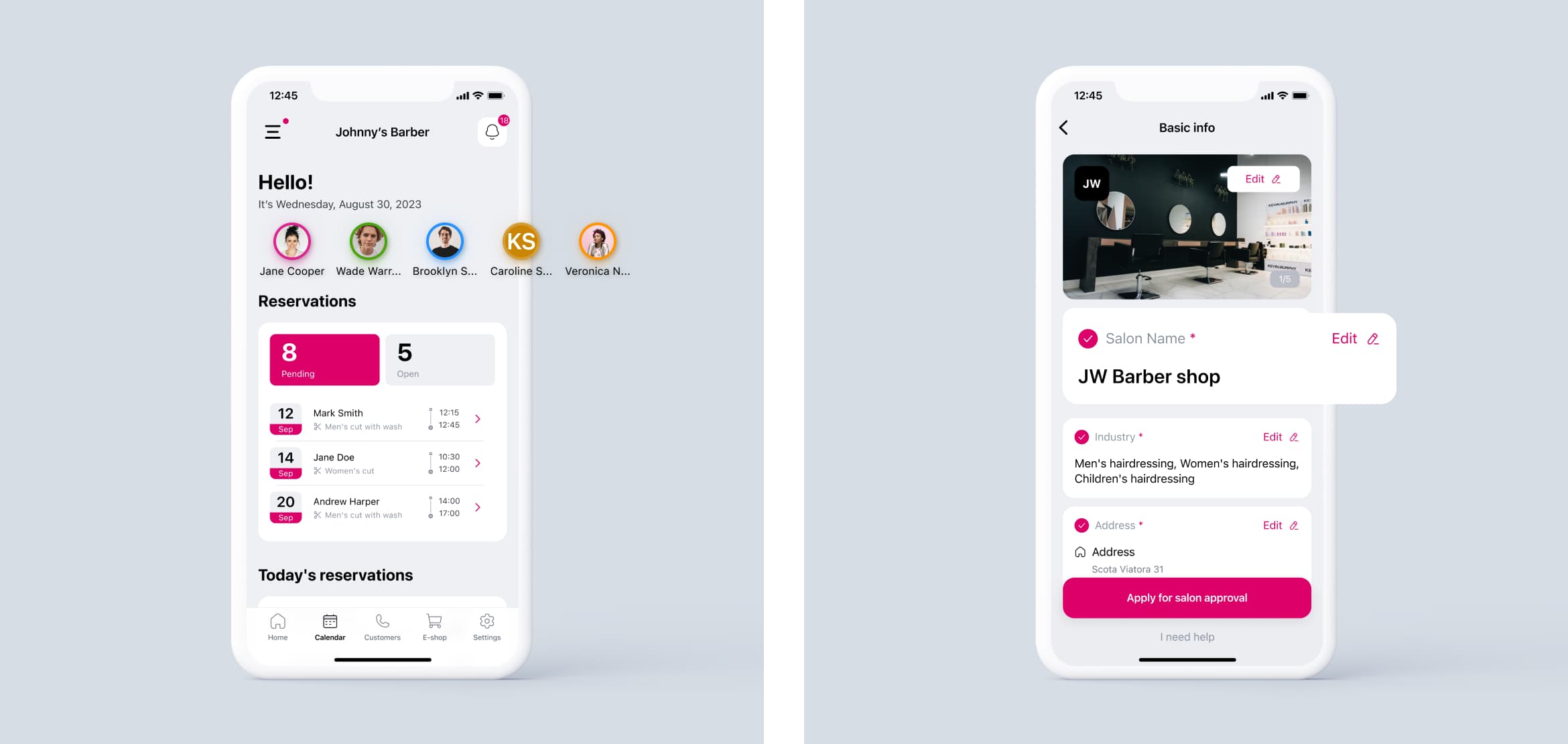 The biggest challenge within the B2B application came with the second milestone – designing an online reservation system where salons would manage bookings and plan employee shifts on a calendar. What can be challenging when designing a calendar when there are already plenty of them available? Despite the abundance of existing solutions, this task proved to be quite demanding. We had to take into account numerous functionalities and design a solution that would be very straightforward and intuitive, both for the mobile application and the administrative interface on the desktop.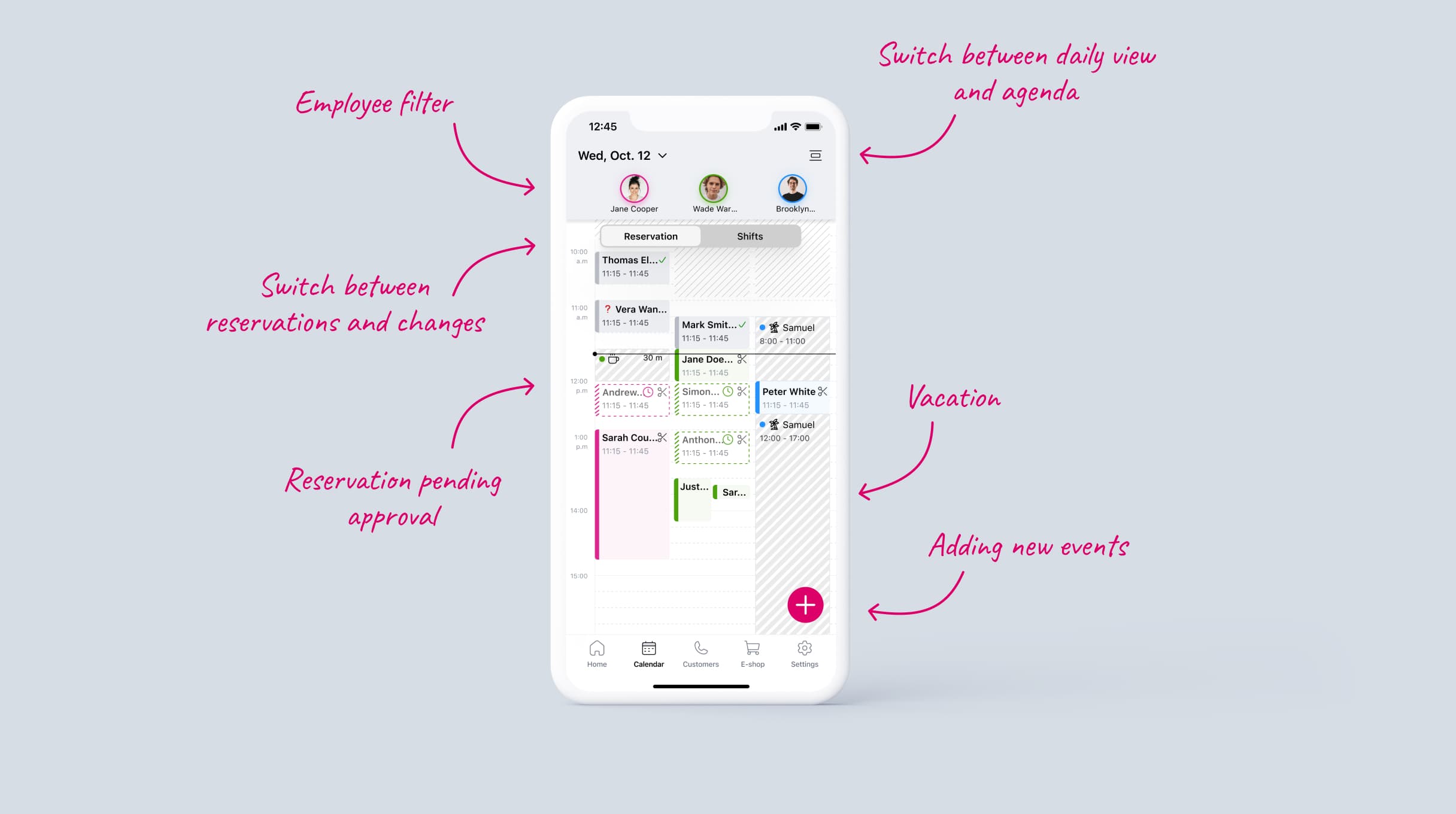 B2C - one app, two worlds
Originally, we were supposed to be involved only in the design and development of the B2B application, Notino Partner. However, it became evident over time that the design of B2C and B2B applications goes hand in hand, and it's challenging to coordinate the entire process when two different teams from two different companies oversee it. As a result, we eventually took charge of the design of the new beauty module in the B2C app, where customers can easily and quickly find services in their vicinity, book appointments online, and add and read service reviews.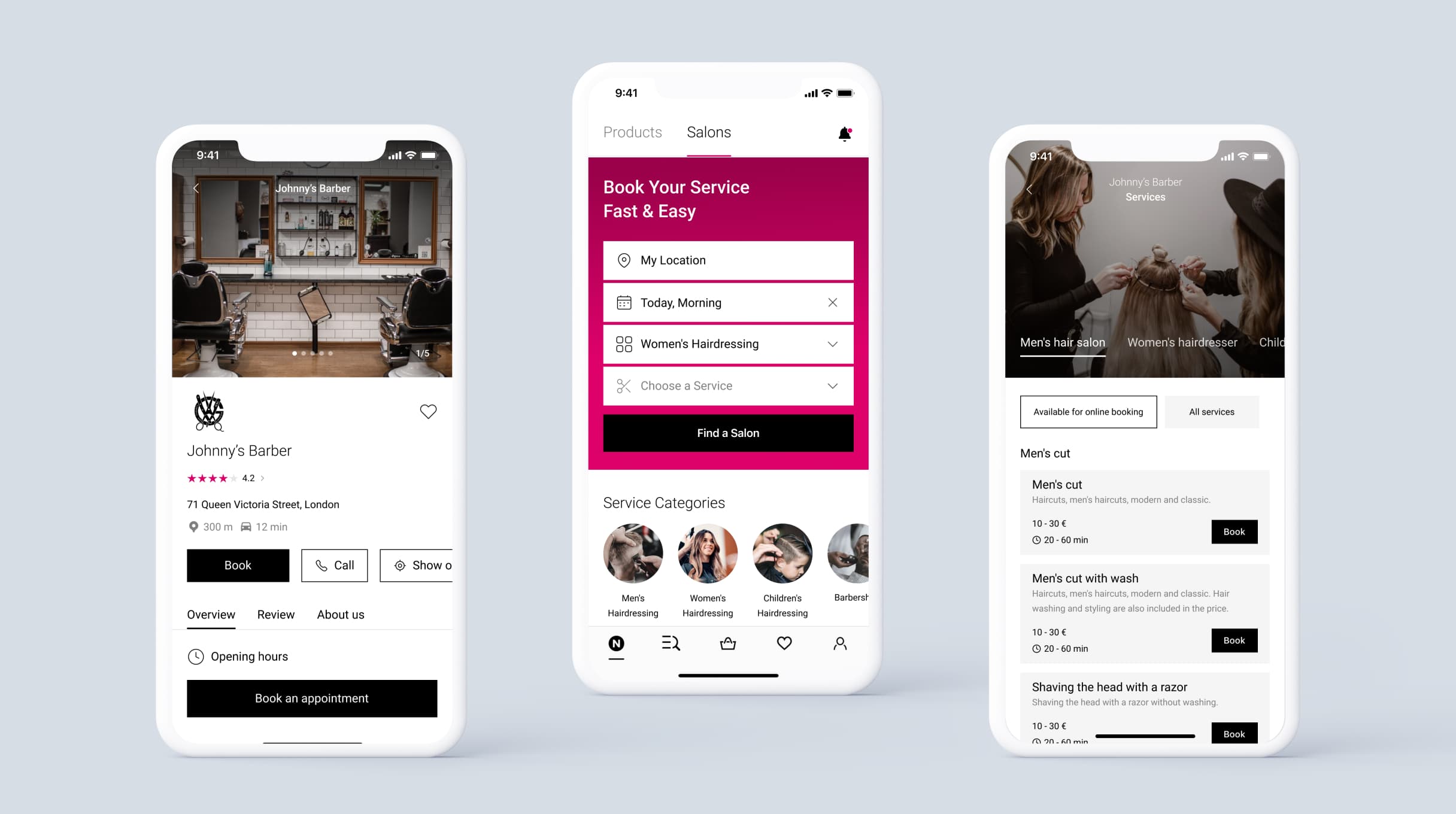 With this decision came a new significant technical challenge – how to integrate the new service module into the existing product world app? How to minimize interventions and modifications to the current infrastructure? On the backend and frontend levels, we urgently needed to address emerging questions at a high architectural level and also tackle the challenge of bringing together two development teams.
Therefore, it's doubly true that it's one app, two worlds.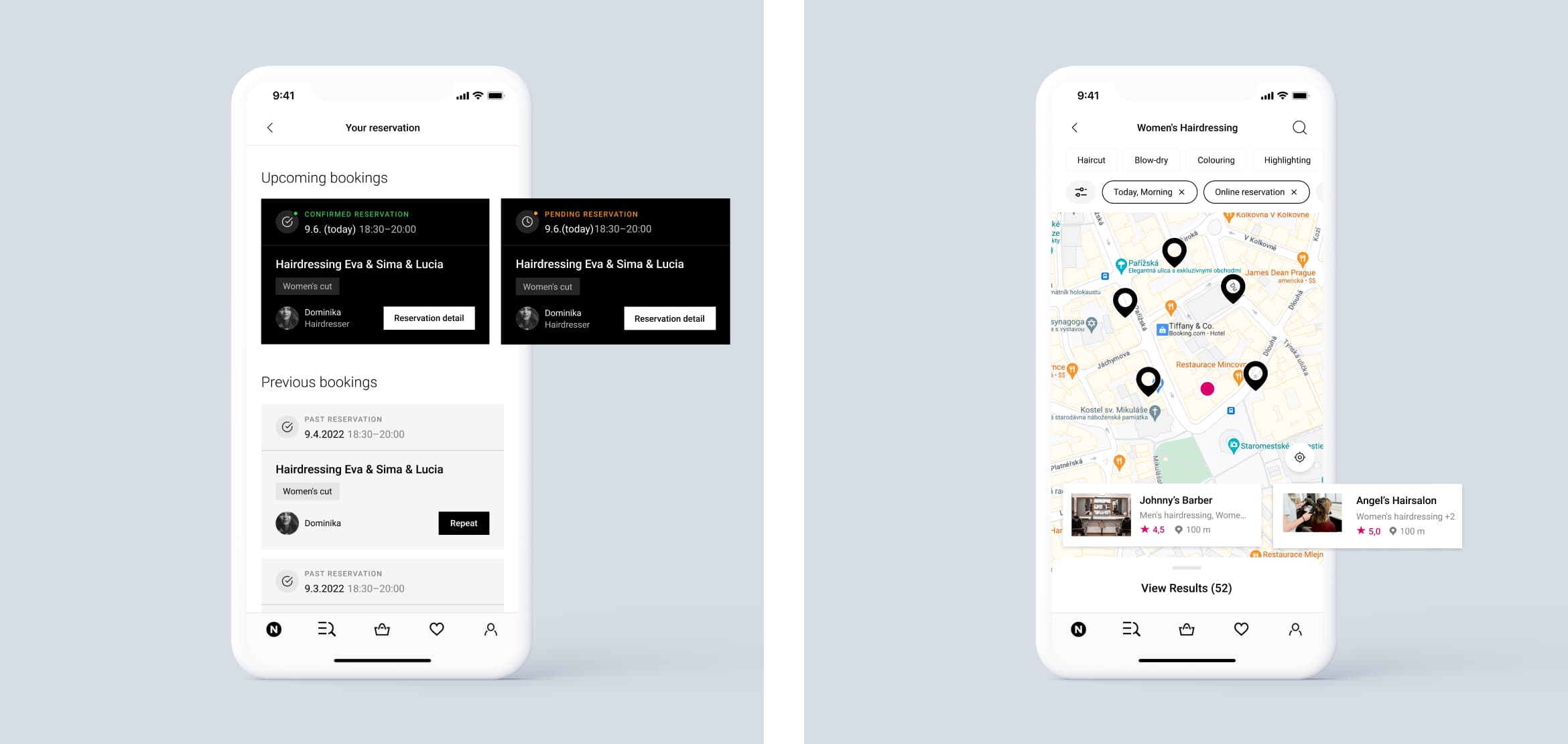 Administrative interface - the best strategic decision
Notino's original vision was to create primarily a mobile application with a simple administrative interface for data import and export.
However, as is our custom at GoodRequest, we think "out of the box'' and always think beyond the brief. We have therefore come up with a breakthrough solution and made the ''web admin'' bulletproof.
We created a robust information architecture so that the admin interface could handle much more than the mobile apps - managing content, service directories, and providing an overview to manage all necessary operations related to employees and salons. Support also gained a more advantageous position as it can precisely guide partners through the admin interface, making the transition to the new system more straightforward.
This solution has simplified the entire development and process and is an excellent strategic decision.
Agile management
Selecting the appropriate development process is key to achieving a high product standard. For a project of this magnitude, with frequent specification changes and time constraints, the best approach is agile project management. Agile project management enables the team to work with greater flexibility and respond more effectively to customer requirements. The project development is divided into short iterations or sprints during which specific functionalities are developed, allowing for a quicker delivery of value.
Results
After taking over the B2C application, a transformation occurred, ensuring a growth in conversion on the client's strongest market. The new B2B application is also experiencing success as the network of actively collaborating partners with the system expands, strengthening our partner's position as a leader.
Positive feedback from B2B partners and customers underscores the value our application provides. Together, we are prepared for further successes, growth, and the setting of new industry standards.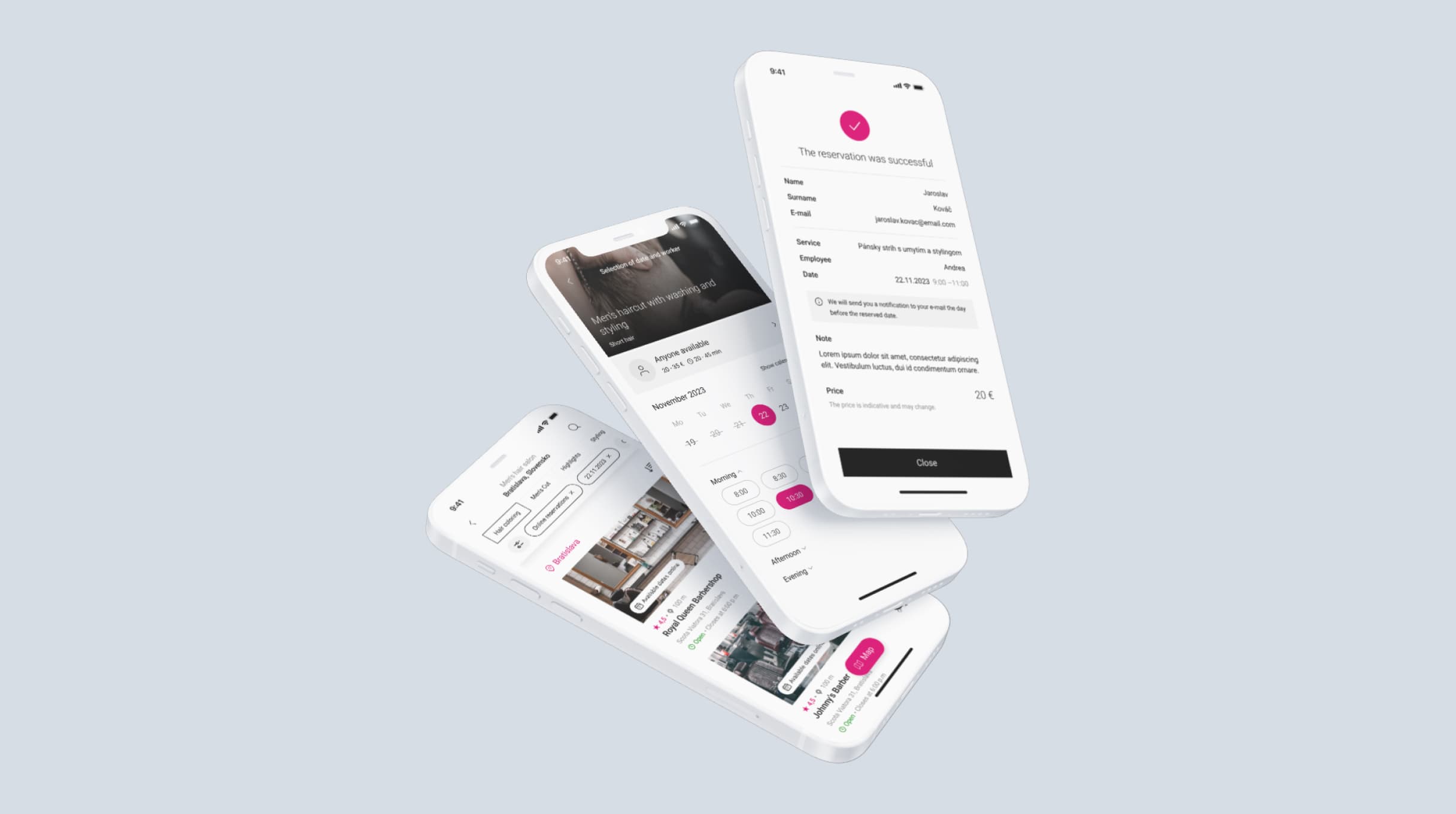 Collaboration continues
Our journey with Notino doesn't end with the delivery of the application. We continuously manage the application and are already working with the client on planning and implementing additional functionalities that could enhance the application and contribute to increased customer satisfaction.
"I am very pleased that we are creating products that are user-centric and improve quality of life. I'm also proud of our team, which has remained cohesive and done a good work despite several challenges."
Tomáš Kurať
Project manager