Forbes
How to bring a consistent user experience and ensure scalability for a media house that operates in 3 countries for several million users. This was one of the biggest challenges for our design team.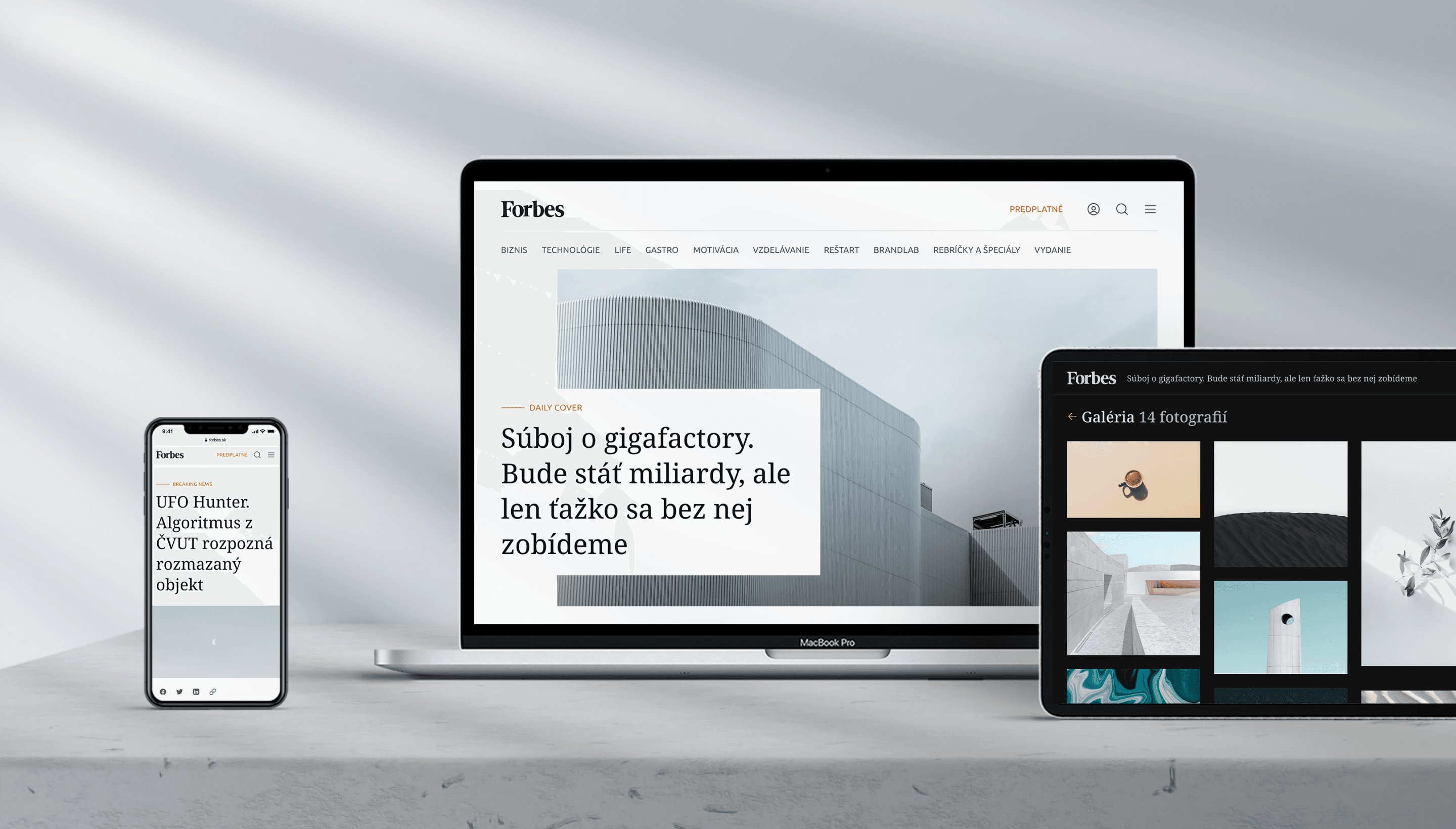 Informations
Client:

Forbes (Barecz & Conrad Media)

Project type:

Website redesign (forbes.cz, forbes.sk, forbes.hu)

Services:

Design strategy, UX design, visual design

Year:

2021 - 2022
Client
Forbes is one of the most successful and widely read business magazines in the world. In total, it is published in more than 27 countries and brings it's readers fresh, inspiring content from the field of business, finance, entrepreneurship, and mental health.
Challenge
Our challenge was to come up with a solution that would fit in all three countries including the Czech Republic, Slovakia, and Hungary. That meant focusing on conversion rates that directly impact monetization in each country as well as improving overall User Experience and making the content more readable and easier to consume.
‍
In addition to these challenges, Forbes needed to improve the performance of advertising formats in each country, as well as usability on different devices, in particular mobile phones.
‍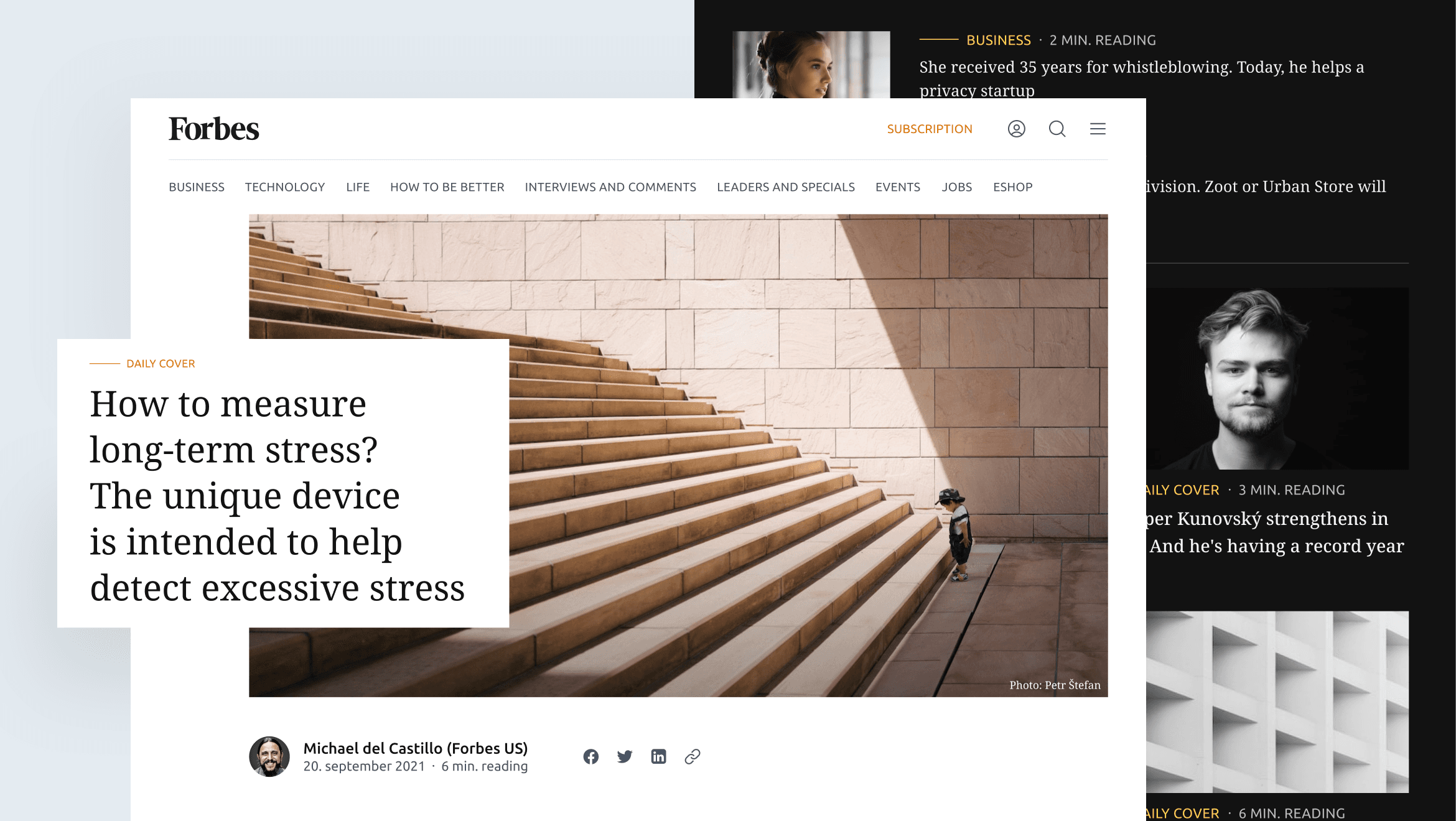 More than one website
Forbes has been operating in digital form in each of the markets (Czech Republic, Slovakia, and Hungary) for several years. During this time, the digital magazine went in on its own direction in each country. Czech Forbes has undergone a visual refresh, various stages of implementing UX processes into the product, or modification of the internal CMS system. In Hungary, they modified their advertising spaces to reflect their national market more. In Slovakia, they created different personalized versions of the popular Forbes Espresso newsletter.
‍
The stage of the digital product life cycle was different in each country. Our challenge was to unify not only the expectations from our cooperation, but also all documents (audits, market surveys,...). For Forbes, it wasn't just a simple one-page website, but we set the entire design strategy and covered the entire digital experience for users in three countries.
‍
Differences between countries and user behavior were already noticeable in their monetization models. The Czech Republic launched a premium subscription last year, Slovakia has several projects where it uses native advertising, and Hungary still relies mainly on the sale of advertising space.
Kick-off workshop
To define the problems we want to solve with the client, we started with a workshop. We've showed to the client that we think in the context of the entire digital strategy and don't focus only on design. In addition to our typical creative process, we added guerrilla testing of the original solution to find out the most common usability issues with the product. We identified the business barriers, propositions, and major pain points of the Forbes users.
"GoodRequest has broaden our focus from "web redesign" to understanding digital strategy as a whole thing. During their showcase workshop we explored several different ideas on how we might improve. We've got convinced in 2 hours."

Adriána Heglasová
Head of Online, Forbes
How to start with three countries?
There are multiple ways how to approach to multi-national teams with different product stages. We've chosen the "hero" country, in with which we started the whole project and subsequently incorporated national differences as an alternative.
Beginning = Many questions
How do users navigate Forbes content? How do they perceive the monetization model? What experience do they have while reading the articles? 9 in-depth interviews helped us get answers to these and many other questions. We got closer to real users. In the interviews, we revealed the problems, but mainly the challenges for the new design.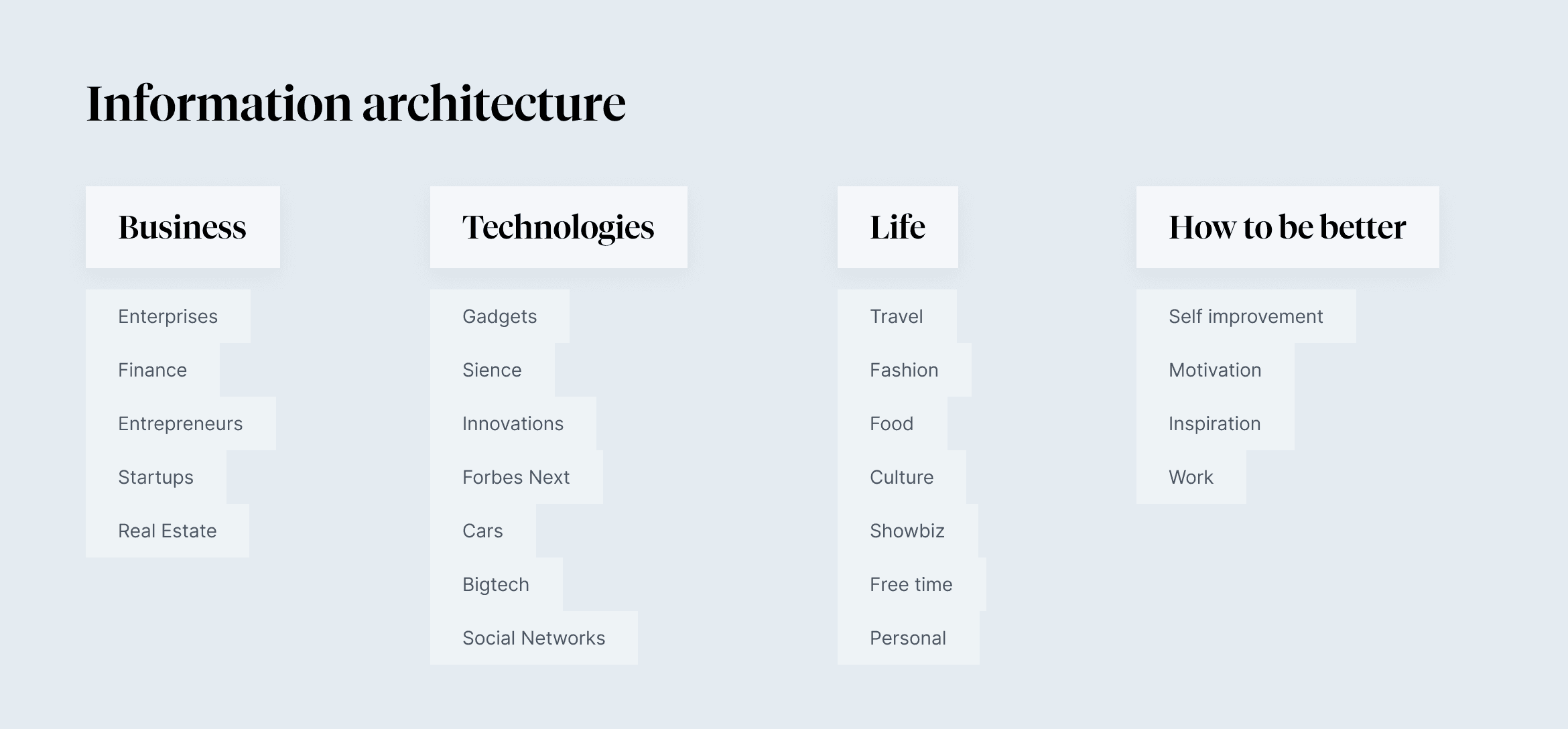 Why not to underestimate information architecture?
When people think of this often underestimated term, they only imagine navigation or a menu. However,c information architecture is much more. It not only organizes information into units that create groups, but also defines at what time information is taken to the user, thus determining his path - user flow.
Categorization of information
Hungarian and Slovak Forbes divided the content into 6+ categories, which is more or less covered their needs when categorizing articles. Czech Forbes used tags that they added to specific articles. However, they were not specified in any reasonableway, each article contained unstructured tags. More than 250 of them were collected in a short time, which complicated the categorization of the data.
‍
‍By testing with users, we identified several opportunities to modify the Forbes content categories to simplify navigation. Taking this into account the needs of all three countries and after analyzing the data on category and subcategory traffic, we created 8 first-tier categories for the Slovak and Hungarian Forbes. Czech also uses the categories of the second layer, where we have included all existing tags with the editors.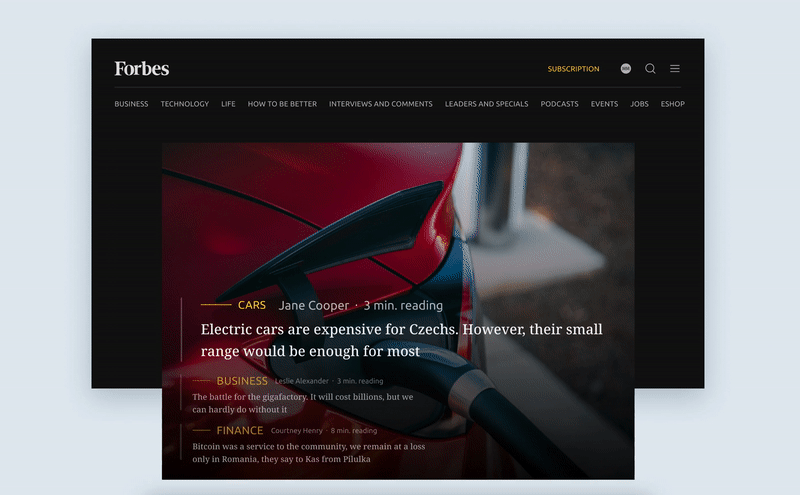 Content changes
One of the main goals that we defined with Forbes was to increase the number of pages viewed per user (pageviews). Changes in user paths (user flow) are an integral change for increasing this metric. One of the specific issues we addressed was content inserts, like recommended articles, which often led to the end of reading and exit. Another big topic is recommended articles, where Forbes Czech, at that time, already experimented with an algorithm that brought the desired results. Subsequently, we only helped to adjust the layout of these articles so that it was clear where the user should continue and why.
It cannot be done without testing
Usability testing is integral part of our design process. Thanks to testing, we can detect design flaws in time and can eliminate them before implementation. When testing the prototype for Forbes, we mainly focused on the changed navigation and new content elements in the detail of the article. According to the results of the testing, we subsequently modified the proposal.
To maintain consistency
The scalability of the design for 3 countries was one of the main conditions for creating a new design system. The flexibility and modularity of this system allows to rapidly speed up the design and implementation of new sub-sites. In addition, the consistency of the Forbes brand is maintained in all three countries. When creating the design of the system, we also focused on the accessibility of the design so that the content is comfortably readable even by people with visual impairments.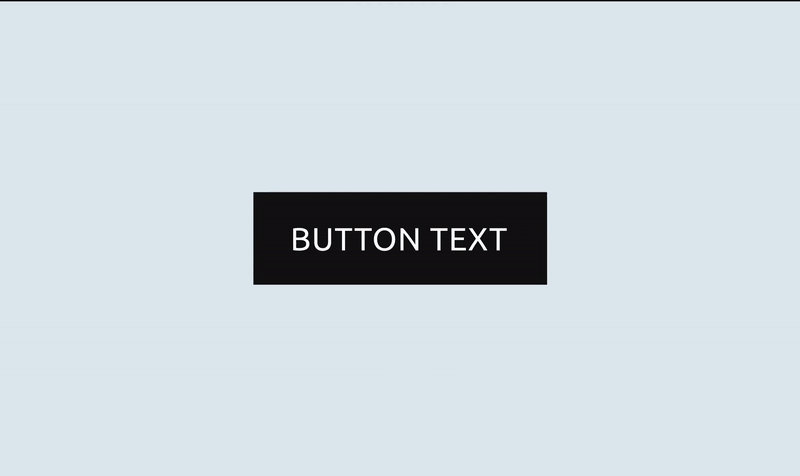 RESULTS
We helped Forbes magazine in three countries to improve the user experience and propose an overall design strategy. By the simplifing navigation we made the content more accessible and easier to read for visitors.
We optimized advertising areas and created a complex design system that unifies design and usability and facilitates implementation in Slovakia, the Czech Republic and Hungary. We look forward to your every visit to Forbes magazine.