What will you do?
Preparation of manual and automated tests
Performing tests on various devices
Analysis of test results
Bug reporting
Work with database systems
Preparation of test data
Cooperation with developers, designers and project managers
Defining the scope of testing and estimating testing
Improving testing processes
Benefits
People always come first. It is important for us how they feel at work and we will always try to make it as pleasant as possible for them
The latest Mac Pro,or Dell XPS, cell plan and all the technical equipment you need
Training support from senior developers, regular code review, team meetups, participation in conferences and workshops
Free working time, no strict rules and micromanagement
English lessons and other professional courses
Possibility to work remotely or from one of our offices (ZA, LM, KE and BA)
English lessons and other professional courses
Multisport card
Legendary teambuildings, skiing, rafting, regular breakfast together, corporate hackathon
Financial contributions for weddings, childbirth, anniversaries
Referral bonus, interest-free loans, retirement savings

Clients and projects
Our partners are Tatra banka, Forbes, Fitshaker, Tipsport Extraliga, Bistro, ZSE Drive, KIA motors and many others.
The projects we work on are mostly long-term partnerships and we provide clients with solutions from the design phase to testing.

Team
To get a better idea of who the test team is and what they like, here is a small sample of what they like to do. You will definitely find a friend for tennis, football, basketball, boxing or cross-country skiing. If it attracts you to the mountains, there are hiking and mountain biking enthusiasts. But you can also talk about travel or online games.
What do we expect from you?
Experience in SW testing on projects 2+ years
You have knowledge of SQL, API Testing and version control (e.g. Bitbucket)
Knowledge of testing procedures and agile Scrum/ Scrumban methods
You have experience with test automation (Ruby, Cucumber, Cypress.io, Jmeter, others) and the ISTQB certificate is your advantage
You can systematically and critically analyze and you have a sense of detail
You have experience with iOS and Android technologies
You can present the results of your work and take responsibility for the status of the project
What can you expect
Start day: March/ April 2023
Working hours: 8h, SZČO contract
Salary: Fulltime : Mediors - from 1900€
Hiring process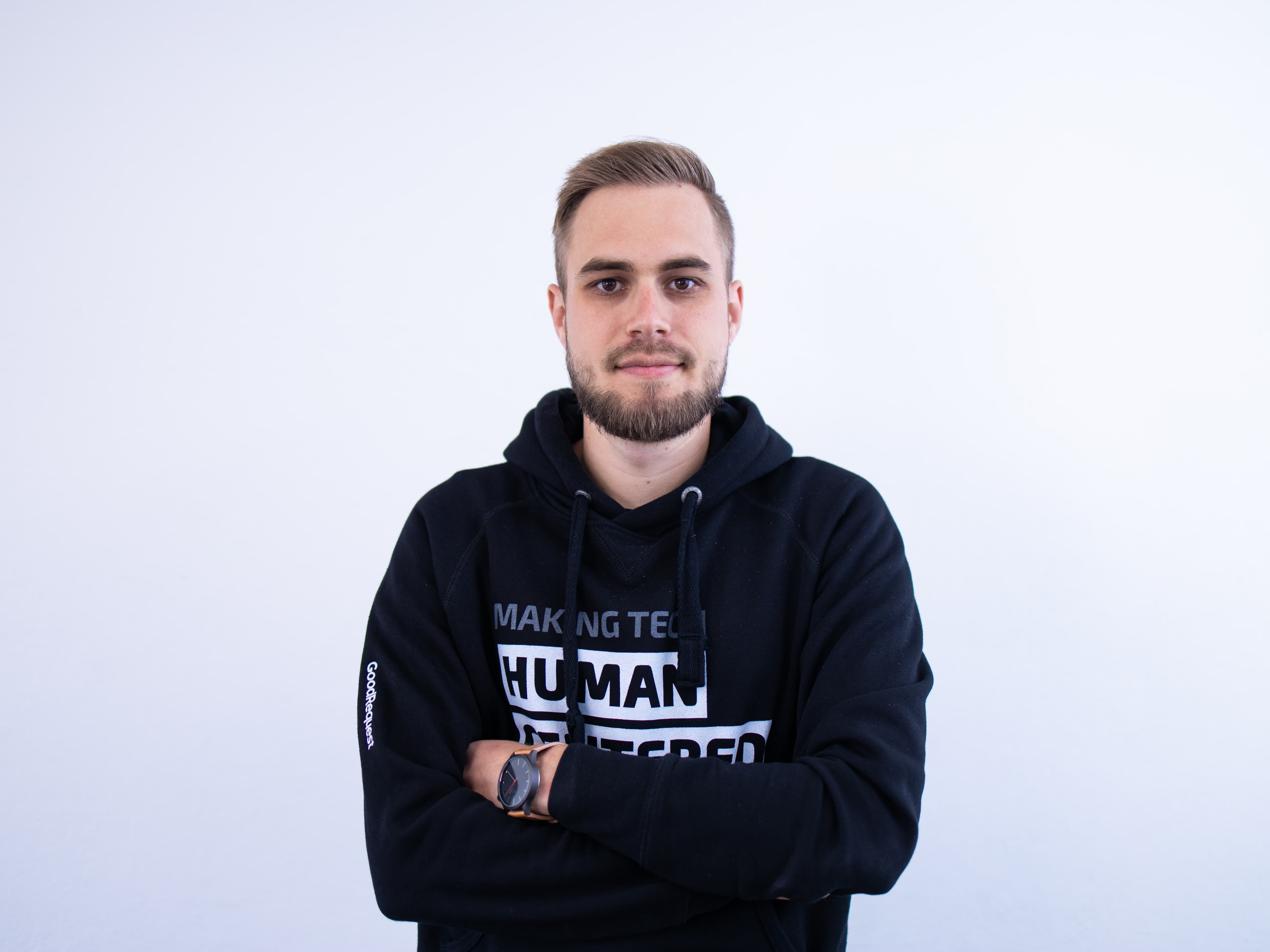 Perks & Benefits
And this is how we play it.
01
Financial benefits
We will motivate you to achieve not only professional, but also personal goals.
02
Tech equipment
Whether you are a team Android or a team Apple, we will provide you with the technical equipment of your choice.
03
Workday
Everyone is unique, so we will allow you to reconcile work with your individual lifestyle.
04
Personal development
Make the most of your talent and potential and we will help you acquire skills and knowledge.
05
Sports and health
We will support you in achieving physical and mental balance through sports activities and education.
06
Events
So that we are not only good colleagues, but also friends, we organize several unforgettable events!
Testimonials
"When Bistro.sk approached us in 2014 they already knew we are the right company for the job. We managed to build a production-ready MVP in a matter of weeks. Since then we tackled together many problems not only with mobile app development but also general product advice and many designs and usability improvements. Now Bistro.sk is Slovak leading food delivery service with over half a million satisfied customers."
Team & Culture
People-driven. In everything we do.
We're an amazing team with unusual culture, rich benefits & world-changing projects from Slovakia.